Artwork Guidelines
There are three important terms to keep in mind when discussing print-ready artwork: Vector, Raster, and DPI.
Vector images are created on a computer and are defined in terms of points on a Cartesian plane that form lines, polygons, and other shapes. This gives them the unique ability to be scaled in size (up or down) without losing quality.
Raster images (also called bitmap) are created using a dot matrix structure of pixels. This image format is resolution (DPI) dependent and as its dimensions are changed the image will degrade in quality. When dealing with this format in print we recommend 300 DPI (Dots per inch). In the above example you can see how a vector image will retain its clarity as it is resized while a raster image will begin to degrade. The lower the resolution of the raster image the greater the quality loss.
Bleed refers to additional space in your print-ready artwork that will be removed during the printing process. At Red Carpet Printing we use a 1/8" (0.125) bleed on the top, right, bottom, and left margins unless otherwise indicated in our templates.
Example: If you order an item at 1 foot square, the print-ready artwork you provide would be 1' 1/4" wide by 1' 1/4" tall.
---
Safety refers to space within the final dimensions of your print-ready artwork that does not have any important information (text, logos, etc). This is to ensure that during the printing process none of your key details are trimmed. At Red Carpet Printing we recommend at least a 1/8" safety on all margins. RGB refers to the visual representation of light: Red Green Blue
RGB is used when scanning a document, viewing a monitor or television screen, or taking a picture. The higher the saturation of each RGB color the brighter and whiter the color becomes, while the lower the saturation the darker and more black the color becomes.
CMYK refers to the physical representation of light: Cyan Magenta Yellow Black
With CMYK the stronger the saturation of each color the darker the colors become. The brightness of CMYK comes from the white material upon which it is printed, meaning the less color used the brighter. CMYK is used throughout all physical productions and is often called 'process printing'.
---
When your print-ready artwork is submitted, if it is using an RGB color profile it will be converted to CMYK before production. This sometimes results in duller or less saturated colors which is why we recommend designing using CMYK from the start. As you can see in the above sample, highly saturated RGB colors tend to lose their saturation when converted to CMYK.
For Print Ready Artwork

PDF

Adobe Portable Document Format

EPS

Encapsulated PostScript File
TIFF

or

TIFTagged Image File Format
JPG

or

JPEGJoint Photographic Experts Group
---
For Custom Design Assets, all of the above as well as
DOC

or

DOCXMicrosoft Word
XLS

or

XLSXMicrosoft Excel
PPT

or

PPTXMicrosoft Powerpoint

PNG

Portable Network Graphics
No. A watermark generally means that the media is protected by copyright. When you upload media to Red Carpet Printing it is with the assumption that you, the customer, are the owner or otherwise have the necessary rights or license to use the image.
If you are unsure of whether or not you have the appropriate rights to use an image, we recommend you contact the image owner or the service you used to license the image before uploading.
Yes! For specific items in our product list we do offer custom design services. When you are ordering your item you will be offered the opportunity to select either providing your own print-ready artwork or enlisting the service of our expert design staff to fulfill your vision.
Curious about what products currently offer custom design services? Check out the Custom Design keyword.
If you would like to provide media assets (logos, image inspiration, etc) for your custom design you can do so via your order management dashboard. Navigate to your dashboard and select the appropriate order or item. From there click the 'tools' button () and you will be presented with an option to upload assets.
For each item we offer there are a variety of template options at the bottom of the respective product page. These templates represent the various configurations (size, shape, etc) and are available for download at any time. When you have placed an order you will also see these templates on your order management dashboard.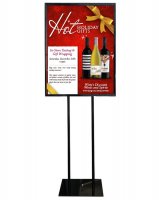 Poster with Stand
Our free standing Poster Stand includes a 22" x 28" drop in plastic graphic and stands 60" tall. This sign holder is perfect for retail advertising.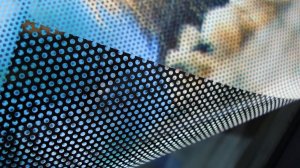 Perforated Window Vinyl
Utilize your window space for advertising and promotions without sacrificing natural light or visibility.